We began our Annual report last year by commenting on the difficulties being experienced in Zimbabwe as a result of the declining economic situation. Sadly we have to say that the economy is now in crisis and the problems being experienced by the majority of the population have been increased by a drought that has affected many parts of the country and failed harvests have created an extreme shortage of food. In addition the Eastern Highlands area of the country suffered a devastating cyclone that destroyed both homes and crops as well as taking away many lives.
We recently received the following report of conditions in the country:
Wherever we go people no longer say the usual 'How are you/ I am fine.' They go directly into talking about their problems. They say:
I haven't eaten for two days, no food at all, even today.
We made a mistake by voting for the present government because we thought that by removing the late president things would get better, but they are worse.
The prices have gone up so much we can't afford to buy; the children will die. They can't even go to school.
We can't afford to go to hospital when we are sick because the bus fares are too high.
Now our money can't buy anything.
We don't know what's going to happen to the whole nation. There's hunger everywhere.
If you need anything like a birth-certificate you have to pay somebody for it. If you don't pay you don't get it.
We are praying and praying and praying and we thank God that we are still alive. He has heard our prayers.
We thank the Lord for His faithfulness in enabling us as a Trust to continue our work in addressing both the spiritual and humanitarian needs among His people through the generous and sacrificial gifts of believers and churches here in the UK. Our accounts for the year to 5th April 2019 show we were able to allocate almost £80,000 to support the work among the churches and their communities in Zimbabwe and in the current financial year, to date, we have sent £55,000 to meet various needs and at our recent trustees meeting a further £25,000 was allocated to cover ongoing needs in the months ahead. Through designated gifts we were able to respond to the Cyclone Idai emergency with funding to support the Lord's people with repairs to a chapel roof and provision of seed and fertiliser to plant new crops. In addition we were able to provide funding to assist with the physical and educational needs of around 500 children and young people affected by the cyclone. We have established an Emergency Relief Fund to enable us to respond to the immediate requests for help coming as a consequence of the crisis facing so many in the country.
Supporting Churches in their Ministry and Mission
In May two of our trustees – Maciek Stolarski and Mark Drury visited Zimbabwe to conduct the Training of Trainers for a group of twelve pastors who will then be responsible for leading Indigenous Preachers Workshops in various locations in the country through the year. The training was based at a new location this year – Lasting Impressions Christian Training Centre in Kadoma. This proved to be an excellent venue for the team.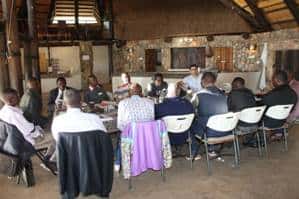 In addition Mary Stolarski led two days of Ladies Conference in Harare for a group of around 50 ladies on the theme 'Daughters of Encouragement' – drawing lessons from the example of Barnabas in the scriptures. A fuller report on this visit was given in the News Update circulated in June. Plans are in hand for a further training visit next May when Maciek, Mark and possibly Derek French will travel to Zimbabwe and we would value your prayers for these plans. Mary Stolarski will not be going and we need prayer regarding any plans for a further ladies conference.
We continue to support the Indigenous Preachers Workshops being led by men trained through the Training of Trainers programme. Twelve of these are held in various locations around Harare and in other areas in the country and we work with our partners Operation Grace Mission to develop ways of making the training of local pastors more effective in equipping them in their ministry.
Relieving poverty among the churches and their communities
We continue with our policy of establishing and supporting projects that will enable individuals, families and communities to become more self-sufficient and less reliant on aid from overseas, as well as being ready to respond to emergency requests for help. A number of these initiatives were referred to in our Projects Update newsletter in June and it is encouraging to see the progress since that time.
Makamure Community Garden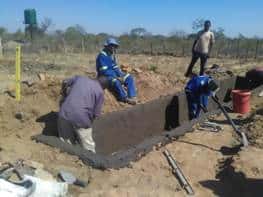 We mentioned in our June report that a community garden we are helping to develop to provide for families affected by the HIV/AIDS crisis was in need of the provision of a borehole. 30 individual garden plots have been provided but the original well supplying water had run dry. As a result of designated gifts received and the generous support once again of Meadow Chapel in Norwich, this borehole has now been installed and is supplying clean water to the community for domestic and household use as well as supplying irrigation for the gardens.
Makamure Health Clinic
We reported in our June News Update the development of a health clinic at Makamure for a community where the nearest medical facilities are
over 10 miles away. The need at that stage was for the provision of roof timbers and we are grateful to the Lord that a designated gift was received that enabled the roof timbers to be purchased and the picture shows work underway to complete the roof. We are committed to provide ongoing funding to enable the community to complete the building so that health care facilities will be provided.
Springs Farm Orphan Care
The project to provide orphan care in the community at Springs Farm is continuing with the completion of fencing for the 5 hectare plot of land identified for the scheme. The borehole established there last year is working well in providing water for the community as well as irrigation for the gardens being developed and discussions are taking place with the local authorities regarding the requirements in providing accommodation for the orphans. We have funding towards the building of these facilities.
Mt Darwin Community Field Centre
We continue to support James Kambudzi in the project to develop a Community Field Centre which will be used to benefit the community in a number of ways. It is being used to breed goats for the Tariro Yeupenyu (Hope for Life) project that supplies goats to orphan and needy families. In addition the land is being used to provide for:
Training in Foundations for Farming
Growing nutritionally rich crops to supplement diet
Growing maize to provide for needy families in times of crop failure
There is an urgent need to provide a borehole for this project and we would ask you to pray that funds will be provided in to enable this provision to be made.
Mt Darwin Community Development Centre
We work with Trymore Mateyanganga who has been building a Community centre which can be used to teach life skills to young people that will enable them to develop opportunities to support themselves in the future. The centre was completed earlier in the year and the first 3 month course included training in building skills and shoe making. The second course commenced on 1st October with eleven students – five returning after the original course and six new students. Trymore's wife Bester has also been doing some training with the ladies in needlework skills but this is hampered by only having one portable sewing machine and there is a need for more to be provided. Building work is also continuing to provide additional facilities for the centre.
Alongside this, Trymore and Bester run an orphan care programme, supported by the Trust, providing meals on a regular basis for needy orphan children and also providing school fees and other educational costs for the neediest orphans.
Famine Relief
In the current crisis in the country we are working with our partners to provide funds to purchase food for distribution among the most needy in the community at Mt Darwin and rural areas around Bulawayo. We are also continuing with our programme to provide a nutritionally enriched porridge for orphans and needy children in a community at Killarney living in makeshift homes as a result of being the victims of enforced evictions.
Banking Arrangements
As a result of Nationwide ceasing to offer facilities for the account we currently hold for receiving donations to the work of the Trust we are having to review our banking arrangements. We expect these changes will take place in the New Year and we will write again with details once these are available, In the meantime please use the existing arrangements to make donations to the Trust and look out for a further circular giving details of the new arrangements.
Items for Praise and Prayer
Praise God for the generous support of churches and individuals in the UK that has sustained our work
Pray that as trustees we may have great wisdom in managing the funds of the trust for the benefit of the Lord's people and the work of the Gospel in Zimbabwe.
Pray the Lord will comfort and strengthen His people to persevere in faith through the difficulties of life.
Praise God for the development of self-sustaining projects being funded by ZPT.
Pray these projects will be the means of improving the livelihood of some of the poorest and most needy people.
Pray for plans to hold a further Training of Trainers next May and the ongoing Indigenous Preachers Workshops.
Pray for the provision of a borehole at Mt Darwin for the Community Field Centre project.S